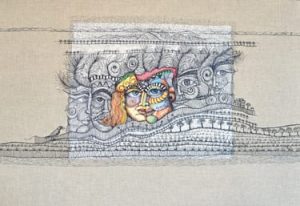 'Art of Being Different'
Freehand Machine Embroidery on unmarked Canvas 92 x 134 cm
The 2018 'Characters of the Fleurieu' a biennial art show that is designed to promote the region of the Fleurieu increase tourism, and recognize its characters!
It is open to all artists, all art forms and mediums, so I was terribly thrilled to be awarded a commendation for my embroidered portrait of the 'Art of Being Different ' this is a tribute to Chester Osborn and his ancestors.
It was especially rewarding to have the only textile piece in the exhibition to get this level of recognition.
In addition I was successful in getting 'Doc Marshman' as a finalist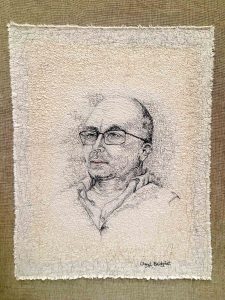 I would like to show my appreciation for The Kennedy Foundation and the Royal South Australian Society of the Arts and The Stationmasters Gallery Strathalbyn.
There are some great galleries down south if you didn't get there my piece 'Art of Being Different' will be at Beltana House Gallery during my Solo SALA exhibition.