'Skrydstrup Woman' Mandurah Wearable Art, Mandurah WA.
Cheryl chosen to represent SA
In 2017/18 Wearable art Mandurah hosted the 2nd Wearable Art Whispers Project, a collaborative undertaking in which Cheryl along with a group of 5 other artists from around Australia were chosen to mythologise the story of The Skydstrup Woman.
Skrydstrup Woman is an incredibly well preserved corpse of a young Bronze Age woman discovered in the Skrydstrup area of Jutland in Denmark. She is An artefact of history and a mystery, providing creative inspiration for the 2018 Wearable Art Whispers project.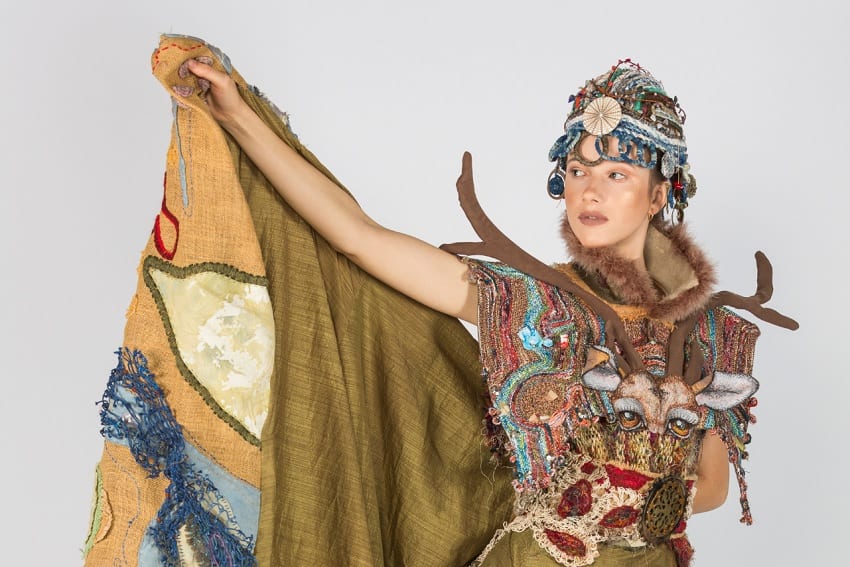 The six artist chosen were Cheryl Bridgart (SA), Jodie Davidson (WA), Carmwl Ryan (NT), Bronwyn Packwood (NT), Stephanie Reynolds (Tas), and Sue Girak (WA).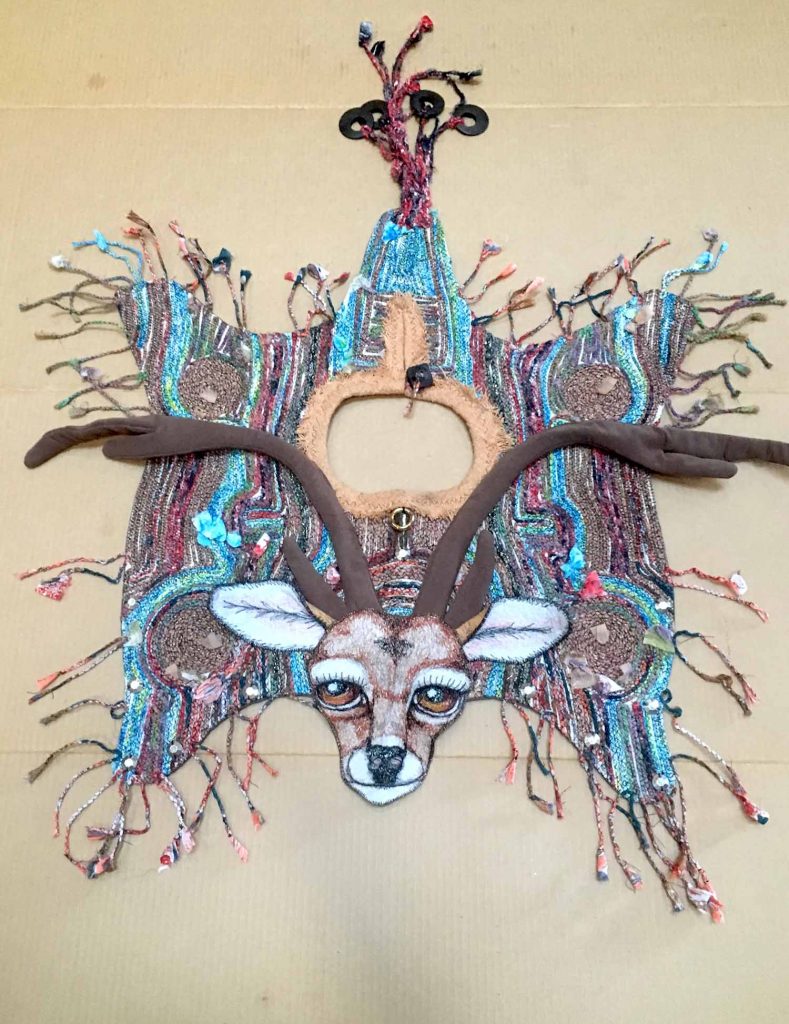 Cheryl was the third artist in the Whisper having dreamed the design she lost herself for over 100 hours freely stitching the deer's head and handmade 110 cords to create the corded collar.
From Cheryl's reflection after finishing her part
'Beginning with drawing the deer (visit to zoo, never use photos), map patterns & then decided I will create her collar. I was very aware of the next artists, not to do too much, so left her torso, arms, head, feet, ears etc. The shape of the collar was decided from researching her story as she lay in the coffin on a skin. I finished the final sketch, drafted a pattern, and then began making over 110 hand stitched cords from strips of recycled fabrics in Jodie's colours. Her garment was embroidered in rows, so the cords were perfect to replicate the original garment. I stitched these to the collar also to look like a map of her journey. I love good 'finish' so I lined the collar, bound the neck in rustic fabric to match Carmel's hessian under skirt. Using a base of white cotton I began embroidering the deer's head from my sketches, many hours passed while feeling & thinking of this stylish lady. Horns were next with boning inside to keep their shape. The deer head I lined so that it could be loose and feel real.
Assembling was fun, adding beads, tassels from more cords, and I made a rustic bone button to finish.
My mannequin Ruby took to the stage in my studio to be photographed wearing part 1, Jodie, part 2 Carmel & my part 3, the collar before posting stages & final photos on Facebook before the courier sent her on her way. '
Six Artists, one garment, and a story that whispers across time and space.
The finished garment was one of the highlights of the Mandurah Wearable Art Exhibition on the 9th & 10th June 2019, and was featured in national and international publications.