ABOUT CHERYL
Cheryl is an internationally recognised master of the art form of Fine Art Freehand Machine Embroidery (FAFME) creating portraits , fantasy pieces, animals and landscapes. Inspirations come from her dreams, nature and life. Cheryl has exhibited, taught and has works in collections in UK, USA, Asia and Australasia.
Cheryl lives works and plays in a 161 year old horse stables in down town Adelaide.
Cheryl begins with a blank canvas. She does not draw on the canvas. No painting computers, projectors or photographs are involved. Threading a fine needle Cheryl creates exquisitely detailed freehand embroideries on canvas, paper & one-off garments.
Her art is instantly recognisable with emotive qualities and subconscious dream elements. She believes in being proud to sign her name on the best original art she creates. Her love of drawing is a love of the tactile drawn stitch -hence she is passionate about free embroidery. Experimentation with new ideas & innovations is part of her practice.
"HIDE 'N' SEEK"
[ngg_images source="galleries" container_ids="2″ display_type="photocrati-nextgen_pro_masonry" size="180″ padding="10″ display_type_view="default" ngg_triggers_display="always" captions_enabled="0″ captions_display_sharing="1″ captions_display_title="1″ captions_display_description="1″ captions_animation="slideup" order_by="sortorder" order_direction="ASC" returns="included" maximum_entity_count="500″]
Detailed visual diaries filled with drawings, from life & her vivid dreams, to use as reference to create and tell her visual narratives in free thread stitching. She has a solo art exhibition every year since 2010. Her journey, life & dreams feature in her art., e.g. Top Cocky & Kiwi Culture (images below) tell a travelling story. They were created live in Canberra & NZ with herself depicted as a cartoon in each, wearing her latest embroidered outfit. ( She only wears her own designed and always embroidered tailored outfits every day).
She takes the foot off of a standard sewing machine and creates her masterpieces using her hands and thread only.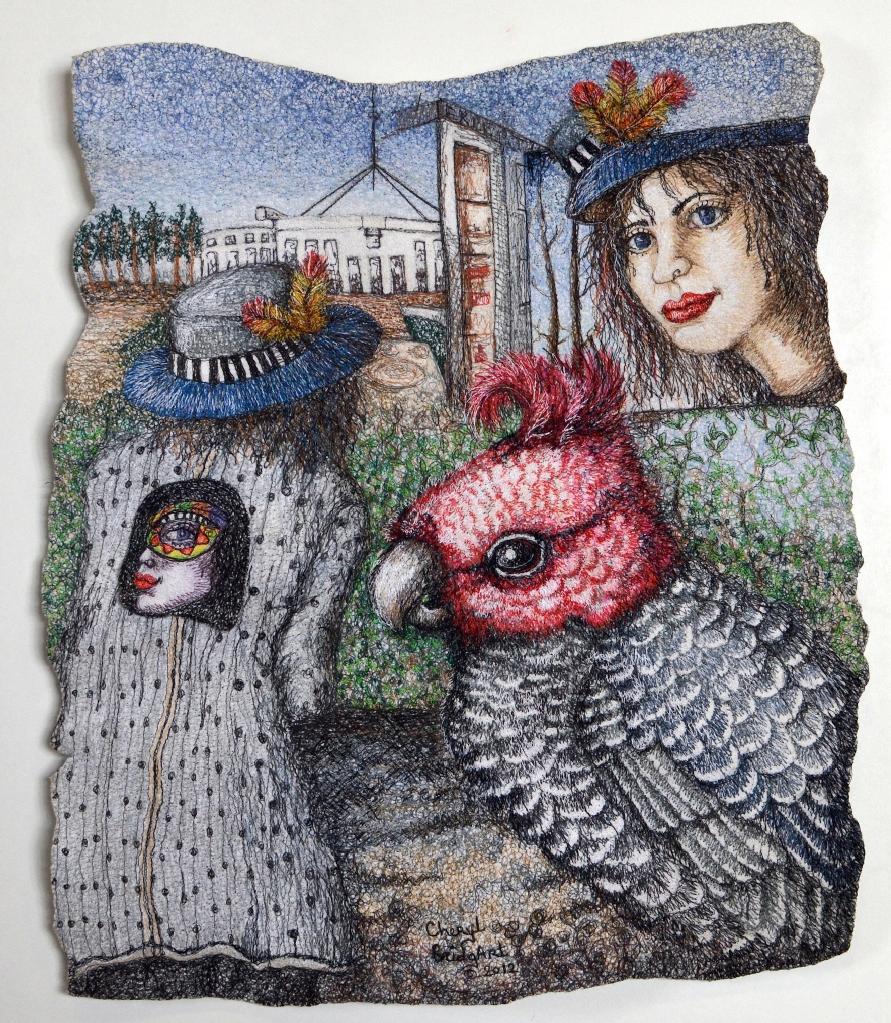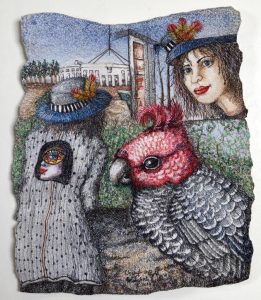 Cheryl is a multifaceted artist she draws, paints but is internationally recognized master of the art form of Fine Art Freestyle Machine Embroidery and her museum quality Art to Wear clothes.
Cheryl has exhibited, taught and has works in collections in UK, USA, Japan, Switzerland, Greece, Vietnam, Russia, NZ and throughout Australia.
Her Art To Wear garments have been exhibited in the UK, USA, NZ and every state of Australia.
She has had at least one Solo Exhibition each year for the past 12 Years.
Cheryl, although fine art trained is self taught in embroidery (she drew cartoons on her clothes with a sewing machine as a child and has only worn clothes that she has designed, drafted, embroidered and tailored since she was a teenager).
Early in her career she set herself a challenge that she would never copy, use computers, projectors, printers or any other medium on her embroideries, nothing but the stitch. It is just Cheryl her eye, her hands, and her domestic sewing machine.
Because of the spontaneity of her work she now can, and does embroider portraits live in front of an audience. This year she embroidered a portrait live of The Governor His Excellency the Honourable Hieu Van Le AC. in front of an audience whilst being recorded for TV.
Cheryl accepts Commissions and collaborations and has created artworks as diverse as an embroidered cushion to portraits, to animal portraits, to art to wear waistcoats to mosaic installations.
Every year Cheryl choses to Give Back to society by giving three weeks of her time to worthy causes some of these have been opening her studio/gallery, 'Beltana House' a converted 1860s horse stable to raise funds for charity.
Cheryl adds to her instagram @bridgartcheryl nearly every day and puts a new blog on this website once a week, she also has a Facebook page Cheryl Bridgart Artist