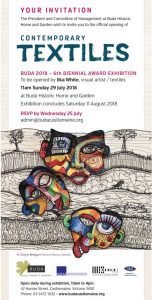 Some days I am so HAPPY like today!
There are not many Textile Art Competitions to enter, so I was excited to see the Contemporary Textile Exhibition, BUDA 2018 The 6th Biennial Exhibition and Awards was coming up.
BUDA is an historic house and garden in Castlemaine Vic. This is a part of country Victoria that prides itself on art and in particular textile art.
I entered a free-machine embroidery piece called 'Refresh Renew'.
This art was inspired by the renewal of our farm after a bush fire destroyed it.
Imagine my excitement when I got the flyer advertising the BUDA 2018 The 6th Biennial Exhibition and Awards and it featured my artwork on the invitation to the opening.
I recommend people to go to this exhibition: –
Sunday 28 July – Saturday 11 August 2018
Buda Historic Home & Garden 42 Hunter St Castlemaine VICTORIA 3450
Some days it's great to create.