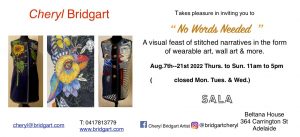 7th to 21st August 2022 Thursday to Sunday 11 till 5
South Australian Living Artists are celebrating their 25th anniversary.
Cheryl is celebrating her 14th consecutive SALA Solo by returning to her roots with an exhibition of 14 tailored heavily embroidered coats, waistcoats, cushions as well as her usual embroidered wall art and paintings.
Lifelong dedication to textiles using line, colour, and form for aesthetic expression. Letting the imagination run free unravelling nature's secrets and relevance in the form of detailed, figurative embroidered wearable and wall art. Experimenting with the unexpected, Cheryl's skill and training in fine art is the foundation of her machine embroidery artworks.
Cheryl's art is unique and entirely freehand. Using only her hands and eyes to guide the needle of her sewing machine (NOT computerised) and no photos, computers, prints are used.
At least 30 new works will be exhibited and audiences will also be able to view her sketch books, historical artworks, and couture quality art-to-wear clothes. Watch Cheryl create her magic at each opening in a venue like no other in Adelaide.
Cheryl a finalist in the 2021 and 2022 Australian Textile awards. and a finalist in Gallery M 2022 SALA contemporary art award.