For the third time in a row, Cheryl has been a finalist in this prestigious contemporary art prize which is open to any medium.
This she has achieved with her chosen medium of embroidery .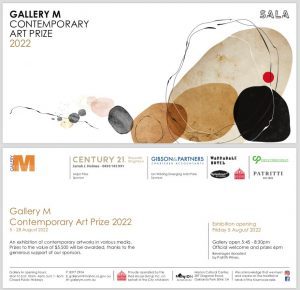 This years successful entry is titled 'Gentle Whispering'
Artist statement about 'Gentle Whispering'
Cheryl, a multifaceted artist known for her unique freehand embroidery she describes as drawing with her sewing machine is labour-intensive using needle and thread much as an artist uses a pencil.
Cheryl aims to draw the observer in with captivating details, rich textures and take them on a journey into her secret world to find their own interpretation and bring hope and inspiration. Joyous threads run through this artwork that hovers between dream and reality. Thoughtful faces appear from beneath. Stitched lines flow across the tranquil blue sky to symbolise endless possibilities and what lies ahead. Symbolic birds, creatures of the skies with unique spirit and energy fly to safety, butterflies, symbols of transformation seem to change into whimsical birds. Look closer and discover hidden animals in this immersive embroidery.
Cheryl is fine art trained, but a self-taught embroiderer, so she has developed her own personal style and technique which continues to evolve.
The opening is on July the 5th come and see the high standard of work that this gallery attracts.