A Vast Emporium:
Tales of Asian Art Dealers in a Global Age
On 23rd August Cheryl in her studio Gallery Cheryl hosted (TAASA) for an afternoon to reminisce and celebrate the trade of Asian Art as described by three of Adelaide's best known and established dealers and conservators.
David Button recounted his experiences in acquiring and conserving Japanese art works.
Mary Jose Fabric of Life discussed the finer points of Asian textiles.
Peter Roberts, formerly of Moghul Antiques and Small and Whitfield Auctioneers described his experience in the trade.
Cheryl uses her Gallery /Studio /art skills to support three Charities or Charitable event a year and this is but one example.
It was very relevant that this was Asian Art as Cheryl and most others believe Art does not have national boundaries as exemplified that Cheryl has work collected by two Asian Galleries in Japan and Vietnam.
In 1989 Cheryl's textile wearable art collection titled "Images of Australia" featuring Australian bird, tropical fish, leaves and insects were shown at the Himeji during Adelaide Week Celebrations and her embroidered work "Lonely Heart" was given asa gift to the City of Himeji.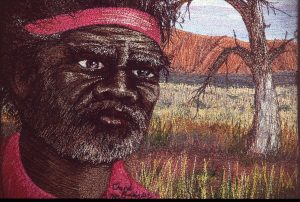 'Lonely Heart' Freehand machine Embroidery on a domestic sewing machine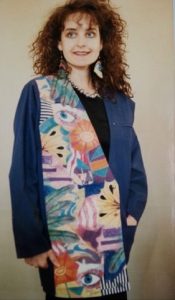 Part of the "Images of Australia" collection
In 1919 Cheryl was a guest artist at HO Chi Min City Vietnam Kylong Gallery cultural exchange the work she produced us now in the Ho Chi Min Gallery collection.
Speakers at 'Tales of Asian Art Dealers in a Global Age'