Cheryl was runner up in the 2019 Gallery M Contemporary and this year she was a finalist again with her unique artwork.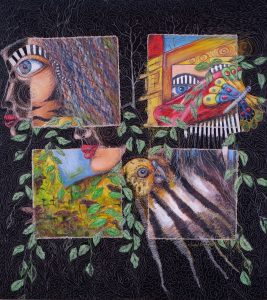 'Fragmented' 102x 92cm (thread acrylic and canvas)
Artist statement
Cheryl best known as a freehand machine portrait artist but is versatile in a range of mediums she moved from embroidering the Governor's portrait live on TV to COVID.
She normally either paints draws or embroiderers but never on the same artwork. Lockdown gave her time to combine these techniques. Her response to COVID was to deconstruct some of her paintings into squares or 'windows' then locked up, she chaotically stitched them onto black canvas reflecting the insecurity, danger surrounding her.
Many hours of free embroidery to 'draw' & flow the window images onto the darkness out of the depravation into nature and the hope to move forward to a social & recreational future. Symbolic birds, butterflies & growing vines represent freedom, transformation, renewal and triumph over adversity.
"Live loud" Runner up GalleryM contemporary 2019 ( Photo Grant Hancock)
Cheryl was particularly pleased that Gallery M used her artwork of 2 years ago for their main promotional material in the official SALA magazine