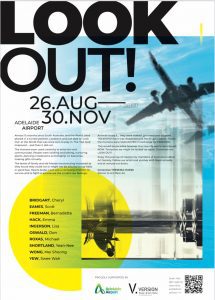 Cheryl is very privileged to be one of 8 artists to be asked to exhibit at Adelaide Airport to celebrate the opening of South Australia borders.
Cheryl Bridgart's achievement is not just a gallery of compelling finished art. It is a progress, in which her first drawings, paintings and sewn childhood pictures have developed and now have a formative place in homes and galleries around Australia and the world.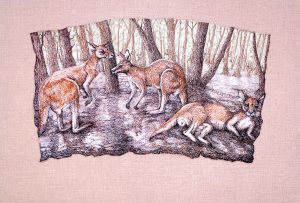 "Kangaroo Mob" 72 x102 cm Embroidery only ($7,000)
Her Adelaide Beltana House Studio is the focus location for her art, originally 1860's horse stables. Today it's a compelling and exotic place where visitors can pop into Cheryl's studio, observe her at work and appreciate the magic if not the inner world of her portraits, animal sketches, landscapes and art clothing. Cheryl herself is a walking artwork as she only wears her embroidered bespoke garments and hats.
"Adelaide a Rich Brocade" 100x 88 cm Embroidery on Canvas ($6,200)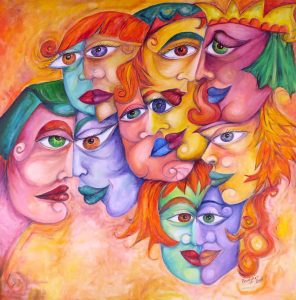 "Just For Fun" 102 x 102 cm acrylic on canvas ($1,500)
Cheryl's art mostly freehand embroidery depicts a world of vivid imagination and associated dreams. The dreams represent not just a storehouse of images and events but a living force which forms the basis of multiple embroidered portraits and landscapes.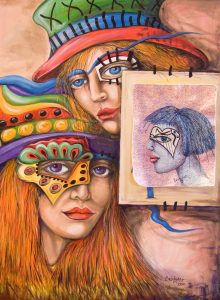 "Dreaming of Spring" 102 x 76 Embroidery & Acrylic on Linen ($2,100)
Each piece of art is not only the product of her personal experience, but more often than not an explosion of her passion. This gives her art both visual and mystic meaning. In all this, experimenting with the unexpected take its course, though her skill and training in fine art is the foundation for her remarkable textile freehand machine embroidery.
"Phoebe" 102 x 76 Embroidery & Acrylic on Linen ($2,100)
Cheryl would like to thank Geneveve Haese for her untiring efforts to organise this exhibition and to congratulate the other artists: – Bernadette Freeman, Don Oswald, Emma Hack, Lisa Ingerson, Scott Eames, Swee Yah Yew and Yeannee Shortland and Adelaide Airports for supporting the arts.