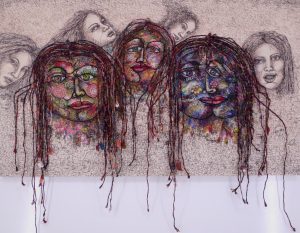 "Twisted k-Not" Finalist AFAA 2021 72 x 122 cm silk cotton metallic thread
Artwear Publications, The Embroiderers Guild of NSW, Gallery 76 and Gentle Roller Company sponsored the inaugural biennial Australian Fibre Art Award this was open to any artists in Australia with a requirement that the work had to be produced from a fibre (it excluded using fabric as the basis of the artwork).
Artworks created from fibres submitted included wet and dry felting, embroidery, knitting, macrame, weaving, and crochet.
The fibres were as diverse as wool, cotton, string, polyester, rope, wire, copper, steel, bamboo, balsa wood, ribbon, tree branches, charcoal, palm and Japanese paper.
Although restricted to Australian citizens there was an obvious international flavour from India, UK, Canada, Vietnam and Ukrainian.
Cheryl was honoured to be one of 25 Australian artists chosen as a finalist.
The exhibition which can be viewed here https://www.youtube.com/watch?v=XHj7N3BZAMo
The book AFAA has been published to celebrate this inaugural Fibre Art Award.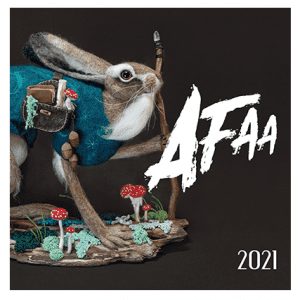 Cover of Australian Fibre Arts Award Book
Australian Fibre Arts Award Book Page 34 35
Australian Fibre Arts Award Book Page 36 37
Cheryl would like to thank the sponsors the Judges Rie Natalenko, Denise Stevens and Liz Williamson
Cheryl would also like to congratulate the winners: –
AFAA 2021 Winner: CATHERINE O'LEARY (sponsored by ArtWear Publications)
AFAA 2021 Judges' Highly Commended: JOY DENISE SCOTT (sponsored by ArtWear Publications)
Excellence in Felt: DENISE LITHGOW (sponsored by Gentle Roller Co.)