The David Roche Foundation wonderful Embroidery Exhibition was held in The House Museum Melbourne St, North Adelaide.
The exhibition at The David Roche Foundation, Embroidery: Oppression to Expression showcased over 100 exquisite embroideries from 1600 to the present day. Due to the fragile nature of textiles, many of the works on display had never been exhibited before.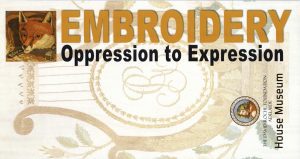 A major survey of embroidery practices, featuring exquisite embroideries from across four centuries, embracing contemporary textile practice in Australia and traditional European styles.
An extensive display of samplers, religious works, Regency silk pictures, and Victorian Berlin work animals. Embroidery in fashion and the unique contribution this art form makes to contemporary Australian art further enriches the diverse material on display in the exhibition.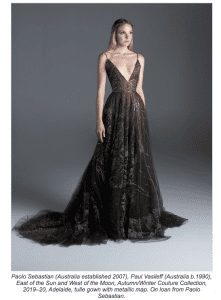 "Secret Dreams" 70 X 50 cm Thread only
This artwork was created in 2020 on a simple domestic sewing machine and it took hundreds of hours and contains over one million stitches.
From Georgian England to William Morris and forward to the internationally renowned couture of Paolo Sebastian created right here in Adelaide and featuring samplers from Kay Lawrence, Sarah Waters and contemporary embroidery "Secret Dreams" by Adelaide's Cheryl Bridgart.
Cheryl outside the Exhibition